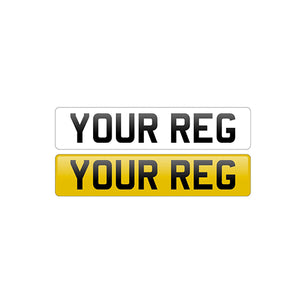 Standard Number Plate Set (Front & Back)

We require proper identification and valid DVLA paperwork to purchase number plates for road use. Presenting the correct documentation is a simple process.
To comply with UK laws, please email clear pictures of your ID and DVLA-approved (V5 Document) documentation to info@kitspares.co.uk

We will process your order and get your new number plates manufactured as soon as the documentation is received. 
Please note these number plates will say Great British Sports Cars at the bottom of the number plates. 
 Please see delivery status for this product.
Delivery Status
This item is made to order and will be dispatched within 2 days of ordering, providing all required documentation has been received.