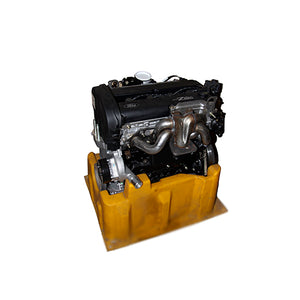 This brand new 2 Litre Zetec engine (136 BHP 145 PS) (Automatic)
Engine comes complete with the following below
- Throttle body
- Injectors
- Fuel rail
- Inlet and Exhaust manifolds
- Leads and plugs
- Coil pack
- Water pump
- Thermostat housing
- Oil filter
- Sump
Please note that a crank position sensor housing is required - Part Number ENG0237
This engine is the ideal upgrade for Capri, Escort, Fiesta, Focus and many kit cars.
We can also supply throttle bodies, ECU, Sumps, Water Systems and small alternator kits, exhausts to suit this engine. 
 Please see delivery status for this product.
Delivery Status
This is not a stock item and is made to order which can take between 1-2 weeks until it is dispatched.
Please Note

Please note:
We do offer full technical support and advice with all products.
​Engines are supplied brand new crated from Ford, Ford and Kit spares do not give or imply any warranty with the engines as we have no control of the installation or setup as this is up to the installer.